Best Compaction Testing in Edmonton
How important is the right partner for your Compaction testing in Edmonton?
Compaction is a well-known term in the construction industry; it is a process that intensifies soil density or entity weight, escorted by a decline in air volume. Normally, there is no alteration in water content. The compaction degree is calculated by dry unit weight influenced by compaction weight (roller weight, hammer weight, impacts and passes number) and water content. The purpose of compaction is to increase the soil strength by mixing friction from particles interlocking. Moreover, soil settlement is decreased by the eliminating void and increasing in stiffness to form a densified soil. We at Central Material Testing offer superior compaction testing in Edmonton, Alberta, Calgary, Fort McMurray, Red Water, Red Deer, British Columbia, Chetwynd, Fort St. John, and Hudson's Hope.
Importance of soil compaction for Successful Construction Projects
Soil compaction is an essential step while preparing for construction. Land that is not compacted properly can have severe negative effects on building integrity, pavement, roads, retaining structures, etc. Essential soil compaction is required for a strong foundation. It's not possible to give strength to the foundation without soil compaction. To check the soil density, a soil compaction test is conducted. The test aims to create the maximum dry density that is required for the soil.  In Edmonton, we at Central Material Testing are working to facilitate your construction company in compaction testing. Compaction testing in Edmonton is one of the best among all companies. Our skilled force serves you with the best soil compaction testing in Edmonton.
Overview of CMT compaction testing in Edmonton
Soil compaction is the basic step to be conducted before the construction process formally starts. We offer several compaction testing methods to define compaction degrees. At first in-site testing is required to comprehend the current condition. Sand-cone testing, we have the option between using Shelby and a balloon diameter, but usually, we use a nuclear density gauge for field compaction and Density Testing. In the laboratory method, our skilled officer visits the construction premises and collects soil samples from different spots to check the properties of the soil. The soil sample is then poured into a mold to measure the soil density like a moisture density test. It specifies soil compaction in a defined volume mold applying standardized weight from a particular height. This measurement helps us in identifying the reproducible and controlled volume of compaction force, optimum soil moisture, and maximum density.
Explore the benefits of Compaction testing in Edmonton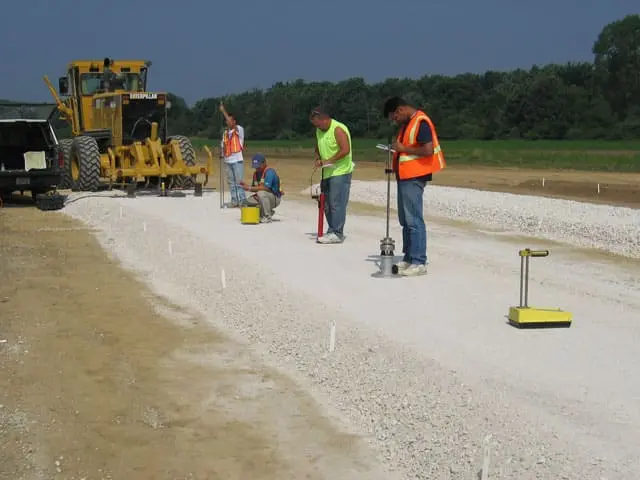 We at Central Material Testing, deeply analyze to conclude that there are possibilities that your soil may not be always flat. For instance, if you dig a hole in the garden, the flat area may end up with a bubbly crumbly pile. Our soil compaction testing in Edmonton insures a flat base that is ideal to support a construction project. It's the most vital and foremost step in the construction process to provide the soil with better stability and advanced resistance and is carried out by us very carefully to secure the project from jeopardy.
Our skilled force is well aware of the importance to ponder on the reality that soil is frequently disturbed by several processes involved in construction, for example grading, trenching, and excavating. These actions may introduce water and air to the mass of soil, and these air voids and water particles are removed by our skilled force to provide rigid support to the construction project. Listed below are some of the benefits you avail yourself from our compaction testing in Edmonton:
Help road maintenance: We drive repeatedly and continuously over a particular area till it gets compact over time, finally it makes it less fertile and ultimately plants and trees stop growing there. The reason behind making it less fertile is that the roots of plants can halt soil and make the road unstable. In addition, compacted soil is tough on water and requires more water to destabilize. We compact the soil prior to placing asphalt or concrete roads, for long-lasting roads. We provide expert compaction services to build a strong highway, suggesting the shape of the highway that permits it to shed water. In gravel roads, we suggest firm soil and an extra reliable foundation for small stones. Soil compaction by a known company like us is required before building roads, if any company ignores soil compaction the roads will experience surplus movement to water and soil beneath the road, possibly causing damage such as leakage or crack in pipes underneath roads. Roads will then experience holes and become unsafe for travelers.
Enhance your lawns with our services: We at Central Material Testing in Edmonton cater to you with our expert services related to all your lawn and other green space requirements, such as baseball parks, football courts, and golf courts. We compact soil where the greenery will be grown to help level the surface and make it more eye-catching. For the golf court, we compact the soil and put a green effect to make the base solid to tolerate heavy foot traffic.
Provides building a strong foundation: Several regular-size buildings are constructed directly on the soil, however, taller buildings generally require a grip that spread to bedrock. The not so well compacted soil will ultimately result in building or house collapse. So, to give your building strength and strong foundation soil need to be dense adequately to hold the weight of a constructed building. Therefore, it's recommended to don't start the construction until the soil is fully compacted by known companies like ours. For this reason, buildings are not usually constructed until the inadequately compacted soil layer is removed and the entire construction area has been compressed mechanically. If the air is not removed between the soil particles before the commencement of the construction. Later, it may end up with soil movement and water penetration or absorption beneath the building's foundation. Which results in a cracked wall and ultimately building collapse. We are here in Edmonton, Alberta, Calgary, Fort MacMurray, Red Water, Red Deer, British Columbia, Chetwynd, Fort St. John, and Hudson's Hope to help you make your soil compact enough to give your building a strong foundation. We own a variety of heavily updated machinery that makes your soil perfect for the building purpose.
Enhance the capacity of soil to bear heavy loads: The most vital property of soil in the field of construction is its capacity to bear the load that assists the project in building a strong foundation. Before placing the load on a part of the soil, such as retaining walls or building foundations make sure that the base is strong enough to bear the weight. The greater will be the load-bearing capacity of soil the more strength will be provided to the constructed project. Our skilled force applies all their expertise on the piece of land with our advanced machinery to give you a perfect strong base that will make the land bear a heavy load.
Positive Effects on Plant Development in Dry Weather: Weather changes with time. You can't have the same weather throughout the year. Some weather is favorable for plant growth and some our non-favorable. During the dry days of the year, the density becomes low and bulk, and crop harvest incline gradually with the rise in soil compaction. The reason is that marginally compacted soil fastens the speed of seed germination by facilitating optimal seed-to-soil content.
Why Central Material Testing?
Central Material Testing provides lab and field soil compaction testing in Edmonton. The compaction test measurement includes soil compaction testing employing a nuclear densitometer. It is the firmest way of calculating dry density and moisture content in soils from the field using a nuclear densitometer test. Soil compaction testing in Edmonton can be offered on individual demand for soil testing. We offer you Soil compaction testing all over British Columbia, Alberta, Edmonton, Calgary, Fort McMurray, Red Water, Red Deer, Chetwynd, Fort St. John, and Hudson's Hope.
Soil Compaction is the densification of soil by dropping its air content by means of mechanical energy. Compacting soil increases the engineering properties of the soil such as growing its bearing capacity, increasing its shear strength, reducing its settlement under functional loads, and plummeting its permeability. The quality of compaction is calculated by measuring the soil's dry density and moisture content. Our company is here to facilitate you in having the optimal compaction level. If unfortunately, the optimal level is crossed the yield will automatically decline and ultimately drought-stressed plants will undergo reduced root growth.