In Canada, the construction industry is relishing its peak height, and the government is trying to make the roads, infrastructure, and buildings unique and well-constructed to fascinate more immigrants from all over the world to support its economy. New and innovative projects are assigned to the country's most famous construction companies. These companies used high-quality materials especially Asphalt Quality Control to make their project fulfill all the requirements of the project manager. There is a common misconception about bitumen and asphalt, some take both the material as same but in general, they are a bit different. Asphalt has a slightly thick layer of almost 25-40mm, however, bitumen thickness is a bit less almost 10-20mm. Due to heavy thickness asphalt lifespan is a bit longer, that's why construction companies prefer asphalt for their projects
Asphalt is of blackish brown color type of petroleum-like gooey liquid having a shiny solid effect. We mainly get asphalt during the refinement of petroleum as residua or from deposits. Asphalt comprises atoms of elements like carbon and hydrogen whereas oxygen, sulfur, and nitrogen are in very less proportion. It is a loftier, viable paving material for building pavements, airports runways, driveways, highways, parking lots, and footpaths. The construction project using asphalt enjoys high construction speed; is referred to as an environment-friendly material and delivers a quiet and smooth drive. The most common and vital physical property of asphalt is its durability. Durability refers to the degree to which asphalt binder changes physical properties with time (age), often known as time or age hardening. With the time when asphalt binder gets old, its stickiness enhances and converts it into a more brittle and stiff material.
Common Usage of Asphalt in the Construction Field:
Asphalts are commonly considered to be used only for roads. However, in practical life, it benefits a variety of projects such as:
Tunnels pavements using asphalt:
In Canada, most of the roads are constructed using asphalt as prime material, which stretches its durability and performance even under heavy traffic flows. Therefore it's highly recommendable to use asphalt as the main construction material in surfacing or constructing roads in various tunnels all over the country. Preparing road tunnels using asphalt is the main topic of discussion among engineers in the construction industry.
Most of the world's concrete and steel bridges are constructed using asphalt on top for surfacing. The main reason behind asphalt used in these sorts of bridges is that it shields concrete and steel structures from de-icing salts and water. The bridges constructed using asphalt can be classified into four layers.
Prime layer bonding/ sealing layer
The second layer waterproofing layer
The third layer shielding layer
Fourth and the final layer is the asphalt surface layer
Asphalt for Railway Tracks:
When constructing railway tracks, asphalt is the most preferred and highly recommended Material Testing in Edmonton. It has been used in both high-speed track and heavily loaded tracks, and the result of both tracks are remarkable. It enhances the bearing capability of railway tracks and improves their durability and stability. The railway tracks made using asphalt do not need any maintenance and if required then it's very simple and easy to maintain them. Moreover, the asphalt tracks are smoother, reduce vibration and noise pollution
Asphalt application in railway construction is categorized into two; full depth construction is usually known to be ballast-less track and sub-blast layer. Modern railway tracks are preferring the use of asphalt in their project to enhance their durability and life without compromising the quality of railway construction.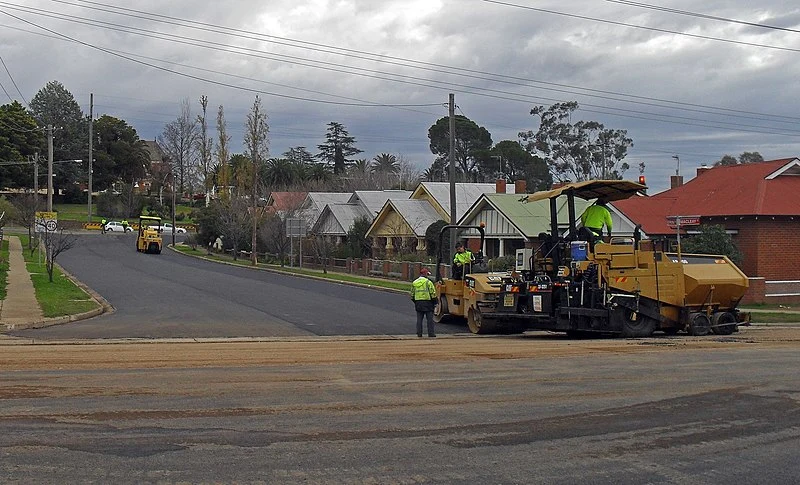 Use of asphalt in airfield:
New modern airport pavements are renovated and constructed using asphalt. The airport consists of areas like a taxiway, parking, and aprons, and the main runway is used by airplanes for landing and take-off. All these areas are different and have diverse specifications for their surface construction. Commendable resistance for parking and aprons for chemical agents and fuel. For all other surfaces, better skid resistance is required.
Other than the above-mentioned usages, asphalt mixes are extensively engaged in the surfacing of aircraft and runways treating areas on various airfields
Main international airports have the heaviest air traffic
Military airfields owning the best jet aircraft,
Domestic airfields carrying medium to light-sized aircraft
Small-scale domestic airfields used for light single or double-seat aircraft.
Asphalt Benefitting Pavements by Asphalt Quality Control
The benefits of asphalt have extensively increased the use of asphalt in pavements of various construction projects. Asphalt testing in Edmonton will help your construction company in selecting the best asphalt recommended for your project. The Asphalt quality control in Edmonton takes the sample; the sample undergo various test to check various qualities of asphalt and then prepared the result.
Importance of Asphalt Quality Test:
Construction is all about working with quality materials and providing quality projects. Low-standard quality producer construction companies get vanished with time as the quality of pavements matters a lot. The quality of asphalt directly indicates how long and well the asphalt surfacing will tolerate various weather conditions over time. Excessive asphalt contractors stay connected with asphalt quality control services and observe the high-quality process. It enhances constructed asphalt pavement efficiency, safety, and value
For maintaining high-quality asphalt, the quality management team starts work from the beginning when the materials aggregate collected to the end when the process is going on. To stop early wearing, the aggregated material in asphalt paving must be angular and durable.
Various Techniques and Tests to Determine Asphalt Properties:
Listed below are the factors that affect the properties of asphalt:
Standard laboratory methods are used to check the asphalt binder service life by simulating short and long-term aging in pavements, whereas the ultra-violet radiation influences are ignored. The UV and thermal aging of asphalt binder performance are mainly focused by asphalt quality control, mostly in regions where the intensity of solar radiation is high. Quality control checks the effects of UV absorption and antioxidants. If the compound anti-aging comprises UV absorption and antioxidant the enhancement of the asphalt binder anti-aging resistance is remarkable, whereas the physical properties of asphalt remain the same. The results predict that the asphalt blend has worthy temperature aging resistance and the asphalt UV absorber's own respectable photostability.
However to improve the asphalt binder anti-aging and physical resistance, asphalt quality control Edmonton selects composite anti-aging agents holding UV absorbers and antioxidants. The anti-aging agent's effects on the loading strength of the anti-aging agents blend are minimal and can be referred to in pavements after storing for a long in high temperatures.
Tensile or fracture strength:
Fracture energy release and fracture toughness are two major factors to comprehend fissure circulation within any construction material. Asphalt fracture toughness describes the reason behind low-temperature cracking and fatigue cracking in pavements. These two issues are a must until the Construction Company gets services from asphalt quality control. Numerous techniques are used by the engineers of asphalt quality control to measure the fracture toughness of asphalt such as semi-circular bending test and disk-shaped compact specimen test. Engineers of Asphalt Quality Control in Edmonton apply them to check asphalt fracture toughness. These are all conventional tests that are carried out on large scale.
The cracks initiate from the Nanoscale to the large scale, as the load increases the cracks become more visible. So the engineers' first work on the reason for Nanoscale cracks, for this Nano-indentation test is conducted in the laboratory. From the unloading curve fracture toughness of asphalt is measured. Results are further used to get the reduced modulus rate of asphalt.
Fracture energy is also known as irreversible energy portion. This irreversible energy is further comprised of energy essential for the spread of crack and plastic energy.
Asphalt pavement thermal cracking is a common issue in cold regions. The failure to use high-quality asphalt results in a series of cracks across the asphalt pavement surface in the reaction of cold temperature and heavy vehicle load. The moisture ingresses the pavement structure through cracks. Take the asphalt sample in laboratory work on its dynamic mechanical characteristics for thermal stress analysis. Soil Testing Edmonton checks determine the weather at which it can survive and suggest the company use it in the reign where it is suitable and restrict heavy traffic if required.
Fatigues characteristic of asphalt:
Pavement is constructed to last long without any extra maintenance, but rutting and fatigue are the most obvious failures in asphalt pavements and roads. The reason behind the fatigue problem is intermediate temperature and load repetition, whereas rutting failure results due to high temperature. Mastic and asphalt binders perform the main role in asphalt mixture behavior.
The asphalt testing company takes the asphalt sample and performs mechanical tests by putting the cyclic load on the sample. The results extracted from the test predict the crack growth data and fatigue life.
Long-time performance or durability:
One of the most vital reasons for using asphalt in pavements is its long life. Pavements using asphalt are likely to survive almost 18 years without any costly maintenance. However, the actual outcome of asphalt construction depends on its quality and care. To check the durability of asphalt mixture various tests are conducted in laboratories.