Construction sites have been popular places for structural challenges and concerns. Material Testing Services Edmonton plays a crucial role in carrying out concrete quality testing. soil quality testing, and asphalt quality testing for reliable construction projects. Competitive strain in construction materials is driving engineers, managers, manufacturers. Suppliers to find advanced ways to balance product quality and value. Moreover, material testing services Edmonton intimidate about the wear and tear of construction materials. It can occur due to use and severe climate exposure beforehand. Central Material Testing offers a comprehensive suite of services that allows you to satisfy local and international building standards.
We offer a one-stop approach to shrink project delays and offer quality assurance that supports strengthening customer loyalty and building construction site confidence and structural integrity. Our field and laboratory inspection, testing, and certification regarding material testing services Edmonton. You in certifying a high level of reliability and operational safety at your facilities.
What Is Material Testing for Construction Projects?
Construction Materials Testing Services Edmonton involves the necessary examination of all structural materials including concrete quality testing, soil quality testing. Other material testing for making the construction project successful. Industry leaders need to certify that their products can endure certain conditions and fulfill increasingly intricate national and international building regulations and quality assurance standards. If they are incapable of doing so, construction projects may get delayed and quality assurance may be compromised. Causing increased liability threats and shortened lifespan of their properties.
How Central Material Testing Can Benefit Your Business?
Materials and semi-finished product manufacturers are accountable for the quality and performance of their materials over the short and long-term structural performance. Material Testing Services Edmonton and certification promises manufacturers, property owners, engineers, and developers. The building materials used in their construction projects can meet these safety, quality, and environmental sustainability requirements. Construction materials testing services in Edmonton can therefore benefit your business in certain ways:
Build your Brand Identity: Material testing services Edmonton at Central Material Testing offer product testing. Certification that decreases the possibility of costly and image-damaging product penalties. Thus, building a strong foundation for your construction company.
Fasten time to market by meeting globally recognized regulatory requirements, codes, and standards. Curtail your risk of legal liabilities and regulatory non-compliance with our impartial material testing services Edmonton.
Gain a viable edge with our independent certification that increases product quality and safety to boost buyer confidence in your material products and brand. We are offering global support and our experts are trained and proficient in local requirements.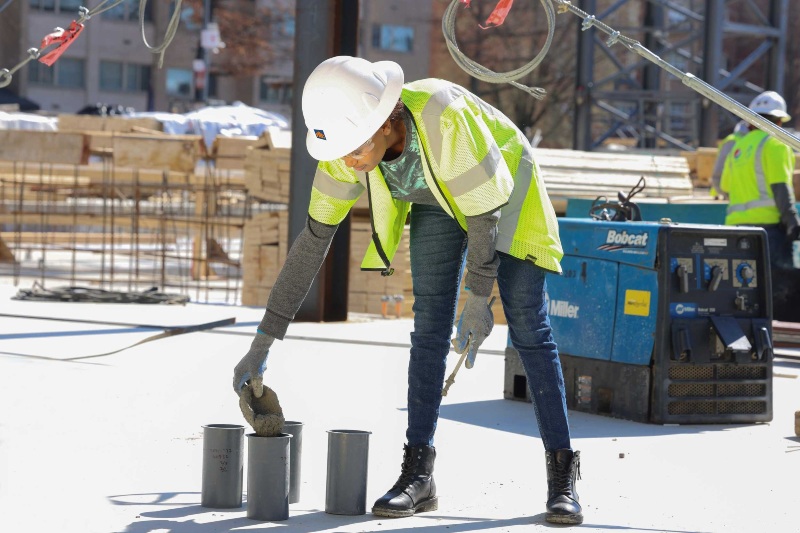 What Sort of Material Testing Services Edmonton Does Central material testing Offer?
Central Material Testing's range of services includes quality control inspection, concrete quality testing, Materials Testing in Edmonton, certification, training, quality control and assurance systems, and safety, environmental, and sustainability advisory. Our professionals are accredited to generate quality certifications according to a widespread variety of international directives and standards. Central Material testing support manufacturers by carrying out different material testing. Certification for semi-finished products including cement, stone, sand, rebar, ready-mixed concrete (RMC), glazing, insulation materials, wall plasters, timber products, paints, coatings, metal structural products, varnishes, masonry products, waterproofing membranes and sealants, road products, and building façades. Our material testing services Edmonton are in accordance with building and construction regulations.
Inspection Testing and Failure Analysis with Best Material Testing Services Edmonton
Our experts at Central Material Testing help you ensure that the materials and products employed in construction projects meet. The stringent quality requirements of different international markets. Material Testing Lab in Edmonton implement mechanical and chemical testing at field or in laboratory for the evaluation of material selection, damage analyses, and assessments, material characterization, Non-destructive testing (NDT), acoustics testing, endurance and cyclic performance, tensile testing. Other structural inspection as well as investigative works. Central Material Testing is a notified body for certification of materials in compliance with global standards (ASTM, DIN, EN, BS, DVGW). Our engineers can conduct scientific investigations to detect the root causes of material failures. Make approvals to avert future failures. We also offer technical support in disagreement cases for your construction projects.
Quality assurance and Sustainable Solutions
We offer a comprehensive, project-oriented quality assurance arrangement throughout the whole building structure construction. Observing progress and material inspections and production procedures to assure all stakeholders of the financial and technical safety of a project. Central Material Testing safety experts provide inclusive services addressing the efficiency, security, and sustainability of materials used in construction projects. We evaluate the energy efficiency, energy consumption, and security of all construction materials to certify. The structural stability, protection, and fire safety of buildings and infrastructure. Central Material Testing offer guidelines to meet the requirements of global sustainability. We offer management systems for builders of construction materials, construction owners, and developers. Hire a professional company like Central Material Testing which provides Quality Assurance (QA) and Quality Control (QC) facilities for concrete quality testing for construction. Foundation inspection, earthworks, and monitoring along with construction management.
Why Choose Central Material Testing for Your Regulatory Requirements?
We have several years of experience in material testing and certifications with an array of national and international authorizations and accreditations. We offer quality testing services with global standards making us one of the country's most highly respected certification organizations. Our materials testing professionals are familiar with all appropriate sectors of real estate. The construction industry, and plants allowing us to offer a collection of services that include mechanical and chemical properties of materials. We perform laboratory tests and field inspections in Edmonton and its allied regions. If you need your construction trials and materials to comply with global design specifications and standards. Contact https://centralmaterialtesting.ca/ for your Construction Projects.