Have you dreamed of your own space? Everybody wishes to have their own home. Ownership pride is probably the top most reason that individuals relish owning their homes. It means you can decorate, paint, and attach permanent fixtures and whatever you wish according to your own will and taste. this provides you and your family with a feeling of security and stability for concrete testing. That is just like investing in your future that will nurture with time.
Investing in your home is a crucial decision you have to think professionally in every aspect and what's better than hiring a professional construction company for your dream project? Professional companies improve your purchase and can offer various builder discounts.
First of all, you have to consider what type of house you want. Wood, bricks, or concrete. If you consider a concrete house as a building similar to a battlefield bunker, you are completely wrong, it is time to change your old thinking. Today, modern concrete houses look similar to conventional wood-frame houses, but there are some better points other than looks. Mostly storm-inclined coastal areas have concrete block walls. But the trend of foam-inclined concrete forms is getting popular in Edmonton because of their enhanced insulation value and simplicity to use. Other tactics comprise removable concrete forms and cast-in-place, panel systems, and advanced approaches featuring sprayed-on or aerated concrete.
Advantages of Concrete homes:
Concrete houses are getting attraction all over Canada due to the listed below advantages:
Concrete houses are best in a sand storm-prone area. They have the capacity to tolerate up to 250 miles per hour winds and wind debris, the storm-battling feature of concrete homes makes them the top choice in the tornado and hurricane zones
Concrete homes are energy efficient. The high price of energy in Canada is motivating the public to switch to concrete houses. The thermal form of walls and fitted seals at joints allow the concrete home to outshine at maintaining conditioned air in and risky extreme temperature out.
They are considered as best temperature control houses. The tight structure envelope assists fewer cold and hot zones and reduced draftiness.
Concrete walls are very good at filtering noise coming from outside.
Concrete is not harbor friendly for insects and decomposes the causes responsible for house deterioration. The life of a concrete house is expected to last centuries.
Unlike wood houses, concrete houses are fire-resistant. In case they catch fire they won't burn or allow the fire to spread.
Along with their energy-efficient feature (requiring less energy for cooling and heating) concrete-walled houses save resources by consuming few wood products and promote green construction. Mostly lumber is only used in interior framing. They offer a healthy environment with fewer air-borne allergens, contaminants, and molds.
Building concrete houses cost a little high than frame house, however, once they are constructed they are a perfect saving project in sense of low utility cost having durability that last centuries.
Benefits of concrete testing for high-quality construction:
Although concrete is the best choice when creating houses in Edmonton, what's the purpose of creating a concrete house if the quality of concrete you are using is not up to the mark? A concrete testing technician in Edmonton performs a series of tests to certify that the mix fulfills the vital specifications of the project. Good quality concrete will be durable, strong, strengthening, and easy to pour; facilitating you in your job by providing ease compared to the low standard mix that will cause serious problems in the future. So, to get fully benefited from concrete houses Concrete Testing in Edmonton is a must. Listed below are a few biggest benefits one avail if the concrete used is of high quality:
Quality concrete mix possesses a maximum percentage of aggregate than low-quality mixes, which means you can save resources by using less water and cement paste. It supports the mix to provide better strength, and durability with minimum shrinkage. For the best mix that gets hard and strong once poured, with fewer chances of breaking and cracking, the best quality concrete is the best and safe solution.
The ultimate result of investing in high-quality concrete assist in delivering the construction project you wished for within the specific time. Never ignore concrete quality tests although you purchased it from a trusted, reliable supplier. Concrete is a vital construction material whether you going for the option of a concrete house or not. Use the one tested by an expert technician.
Low-quality concrete is bad at setting and required a higher maintenance rate in the future when required. To avoid such costs invest in concrete quality testing in Edmonton, quality concrete will ultimately be set in the best possible way.
Low-quality concrete creates problems in setting correctly, especially if laid in an intense climate that needs a specialized mix. The poor quality low-grade concrete mix takes more time at the time of setting and can be tough to level, portraying a poor finish look.
Three basic tests to check concrete quality:
To check the quality, concrete undergoes three basic tests. Concrete quality testing in Edmonton provides you the facility to get your concrete checked before the commencement of the project. Following are the three vital tests to use by the concrete quality technician in Edmonton to certify concrete quality:
Slump test checks concrete workability. It is a cone-shaped vessel, with a bottom diameter of almost 200mm, a top of 50 mm, and a height is almost of 30mm.
Every layer is dipped with a 16mm sharp rod almost 25 times. The higher will be the slump level the more good quality concrete will be.
Slump tests are best for checking the workability of the concrete. The extent of workability depends upon the results. Higher values depict higher workability whereas lower values depict low workability
Slump value 0-50mm is a low workability
Slump value 50-10mm is medium workability
Result interpretation on slump test:
True slump: the only slump that is likely to be measured in the quality test. The difference between the top cone and the concrete cone is the true slump value.
Zero slumps: it indicates the low cement-water ratio, which creates dry mixes. Dry mixed concrete is best for road construction.
Collapsed slump: it indicates the high cement-water ratio which means that water content is very high in the mixes. The wet concrete mix has high workability.
Shear slump: it indicates that the results are not fully compiled and concrete needs to be retested.
High work Compaction Test:
Another concrete test to check its workability is the high work compaction test. This test required two basic equipment cylinders, two hoppers, and an expert technician
Apparatus required:
High work compaction testing apparatus consists of a hand scoop that should be almost 15.2 centimeters long, trowels, steel rods, or any other appropriate Material Testing in Edmonton, and a balance.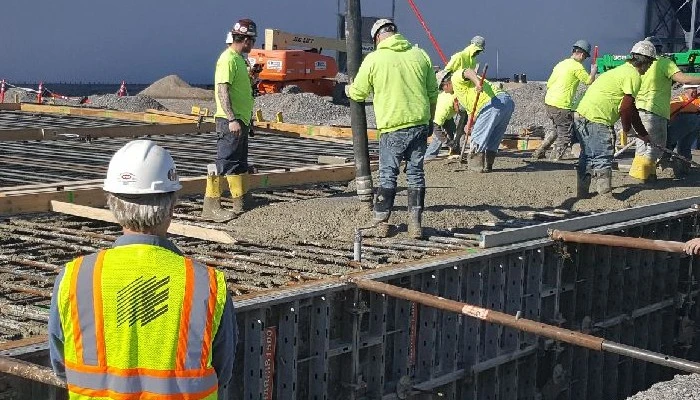 The procedure of high work compaction test:
Follow the below steps to conduct a concrete quality test:
Gently place the concrete sample in the upper hopper with the help of a hand scoop and then level it.
Cover the concrete cylinder
Open the upper hopper trapdoor from the bottom so that all the concrete sample mix goes into the lower hopper. Then push all the concrete sticking on the side softly with the rod.
Open the lower hopper trapdoor door to pour all the concrete in the below-placed cylinder
With the help of a trowel through away all the excess concrete and level the cylinder.
Carefully clean the outside and edges of the cylinder
Weight the concrete along with the cylinder. The weight you get is of partially compact concrete.
Pour out the concrete from the cylinder and then again fill it with the same mix in layers, each layer should be heavily rammed to get full compaction.
Level the upper surface
Now weigh fully compacted concrete
The third and final test to check the concrete quality, concrete quality testing in Edmonton uses the crushing strength test. The crushing strength test requires metallic molds for casting concrete cubes. The molds are sufficiently and properly oiled before use so that there is no problem at the time of cube separation. Concrete is poured into fresh cubes and is kept aside in a room for testing in three layers. After almost 24 hours, cubes are taken out of the mold and placed under water for remedy. In this test, cubes are placed on a smooth surface to note down the crushing load and its crushing strength.
Conclusion:
Concrete is a main construction material that looks like stone, created by mixing binding material (lime. Flyash, or cement) with aggregate (brick chips, stone, gravel, sand, etc.), admixtures, and water. It's vital to apply the accurate proportion of every product according to the initial design and laboratory outcomes. Its quality and strength rely on the consistency and the proportion of the mixer used.
Never risk your construction project without testing construction material. To get the full benefit of concrete construction your need to Soil Testing Edmonton your concrete sample before use. Various laboratory in Edmonton provides the facility to check the concrete quality by taking the concrete sample for test. There is three basic and main test of concrete that verifies its quality, strength, and durability.